Camp Sonshine Day Camp Offers…
Full-day of activities and adventures with the ability to head home at the end of the day.
Group setting designed to grow friendships with friends, new AND old!
Campers may choose to stay on Friday night for an overnight campout experience.
SUMMER 2020 COVID-19 RESPONSE
Due to the concerns surrounding the COVID-19 pandemic,we will be making changes to our summer camp program.
Changes made to our program due to this situation will be notated in red and begin with "Summer 2020 Update."
Camp Sonshine Day Camp Programs
Select the grade your camper will be entering in the fall to see specific program details:
Explorer Camp:
Kindergarten – 2nd Grade
Ages: For campers entering K – 2nd grade in the fall.
Activities: go-karts*, archery, the pool, moonbounce, arts and crafts, inflatable water games, outdoor cooking, pedal carts and nature activities.
Theme Day Thursday: Theme Day is where we take imagination to the next level! Theme Days are always a memorable favorite for Explorer campers as they are designed to be full of specialized, unique activities created especially for campers to use their imagination!
We cut no corners in giving your child the extra special care and attention that they deserve. We provide an active and structured schedule for these young campers that maximizes fun while ensuring their safety.
*Explorer campers will ride in a go-kart driven by his or her counselor.
Adventure Camp
3rd – 4th Grade
Ages: For campers entering 3rd-4th grade in the fall,
Activities: Adventure activities include go-karts, archery, moonbounce, the pool, arts and crafts, teambuilding activities, inflatable water games, petting zoo, sports and water games, outdoor cooking and nature activities, and more!
Theme Day Thursday: Theme Day is where we take imagination to the next level! Theme Days are always a memorable favorite for Adventure campers as they are designed to be full of specialized, unique activities created especially for campers to use their imagination!
Adventure Camp offers a safe and active outdoor experience to build friendships, develop skills, grow in confidence, and create great summer memories! We plan each session to include as many exciting activities as possible.
High Adventure
5th – 6th Grade
Ages: High Adventure takes adventure to a whole new level for campers entering 5th-6th grade in the fall.
Activities: In addition to the regular line-up of the most popular camp activities, High Adventure campers also participate in off-road go-karts, slingshots, kayaking, electives and much more!
Electives: Campers will also get to choose a specialized elective
ctivity to participate in during the scheduled elective period. See more about Electives Below!
High Adventure Electives
Electives bring a variety of unique activities and experiences to the High Adventure program that are not part of the regular camp program, but always a highlight. Electives are scheduled twice a week in the afternoons and allow campers to join with other campers with a similar interest but who may not be in his or her regular camper group. A brief description of past electives is provided below. Electives are subject to change week to week.
X-Treme Art and Pottery: Take your art to the extreme as you create a variety of art projects using all sorts of techniques and "canvases". Campers will paint and glaze a ceramic piece to take home with them at the end of the session.
Airsoft Adventures: A closely supervised environment for campers to safely learn Airsoft as they practice their speed and accuracy. Teamwork and communication are key as each squad of campers attempt to successfully complete a variety of challenges and scenarios.
Sports Spectacular: Every camper is an all-star in this action packed, game-oriented elective. Groups will participate in a variety of games and sports from a wide range of themes and styles including classic American sports, dodgeball games and international sports.
Culinary Creations: Try your hand at creating a culinary masterpiece. Add some special ingredients and enjoy the flavor of what could be the beginning of your new secret family recipe.
Wet n' Wild: A closely supervised extra swim time in our pool!! Campers will be able to swim in our pool, and do other activities like Oasis and other fun water games.
Leader In Training (LIT)
7th-9th Grade
LIT Training Date: Summer 2020 Update: New Date, Saturday, June 13 (NEW LITs ONLY), 10 – 2 p.m. Lunch provided. See more info below.
Ages: LIT stands for "Leader In Training" and this program is open to all students who will be entering 7th-9th grade in the fall.
Why LIT? Teens need to know that they are capable of making a positive difference in their world and Camp Sonshine offers this great program for teens to not only learn valuable lessons on leadership, but to put those lessons into practice in a safe, fun environment. Many teens have used this type of leadership experience to put on applications to such organizations as the National Honor Society and various college & scholarship applications.
What You Can Expect: LITs get the opportunity to be a part of the camp program they love while learning and developing leadership skills as they are given hand-on experience in helping counselors with their group of campers and leading activities. LITs also have the opportunity to sign up for the LIT Overnighter Experience!
LIT Training Date: Summer 2020 Update: New Date, Saturday, June 13 (NEW LITs ONLY) 10 – 2 p.m. Lunch is provided!
A great day to get an understanding of the LIT program, meet other LITs and summer counselors and get your LIT T-Shirt! Parents, if your camper is not able to make it to LIT training, they will be briefed on important information on the Monday of their first session in the summer.
LIT Program Highlights (included in tuition)
Extended Camp Hours at No Charge (as needed)
Practical Leadership Skills Training
One-on-One Mentoring with Trusted Adult Role Models
Volunteer Service Hours
LIT Friday Night Overnighter Experience – LIT participation is highly encouraged
LIT Application Process
1. Register – Teens can be registered for the LIT program by a parent utilizing our regular Online Registration process.
2. Supplemental Application (See Parent Resource Page) – In addition to the regular application, teens are asked to complete an LIT Supplemental Application. The application process is designed to help teens think about their current views and beliefs concerning leadership, what their goals will be in regards to being an LIT, develop realistic expectations for the program, and to gain valuable skills and experiences that will be beneficial to them in completing future job applications.
First Year LITs need to download and complete Interest Questions, 2 References Forms, and LIT Conduct Agreement Form.
Returning LITs need to download and complete LIT Conduct Agreement Form ONLY!
Day Camp Details
The following is some basic information about our Day Camps.
Lunch
Please send a sack lunch with your child to camp each day. Lunch will not be provided and is not included in the cost of tuition. Please send a nonperishable lunch as refrigerators are not available for camper use.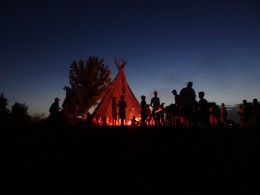 Late Stay (Previously "Overnighter")
Summer 2020 Update: Program end at 9 p.m. on Friday night. Stay at pick up for drive-in-style session highlight video!
All campers have the opportunity to sign up for the Late Stay on Friday night of each session. Campers participate in a wide variety of special activities planned specifically for the Late Stay. Large group games, roasting marshmallows, cooking dinner over a campfire, and a special bonfire time, will create unforgettable summer camp memories!
Pick Up & End of Session Closure
Campers are invited for a Late Stay on Friday night until 9 p.m. For the $25 registration fee, we provide dinner and an evening full of activities! All family members are invited to join us at 9:00 p.m. for a short drive- in-style highlight video with our campers as the STARS!
Extended Camp
Staff-supervised Extended Camp programs are offered both before and after the regular camp day. This option is convenient for both working parents and those just needing some extra time. It's also the perfect solution for those campers who just can't get enough camp. Extended Camp starts as early as 7:30 AM and runs as late as 6:00 PM.
Carpool List
If you would like to be placed on a carpool list to be e-mailed out the last week of May, please contact the office. Please know that the interested families will make all the arrangement and that Camp Sonshine can not be responsible for arranging individual carpools.
Grouping
Campers are grouped with other campers of a similar age and typically the same gender. Explorer groups may be mixed gender when needed based upon enrollment. You may request up to 2 friends to be placed within the same group and your friends must request you as well. We will do our best to honor these requests but cannot make any guarantees.
Waldo Photos
Waldo Photos – 2 Great Options To Get Your Camper's Photos!
FREE GALLERY via Web Browser
Wait until the end of your session and we'll send you a link to our online Waldo Gallery! You can find your campers photos among all the photos we take during the week.
$10 FOR FACIAL RECOGNITION
Sign up for Waldo Facial Recognition Service on your Camp Sonshine online portal by Monday morning at 10 a.m.
Monday or Tuesday you will receive a text message from Waldo Photos with instructions to upload a new photo of your camper and set up your account to get your camper's photos sent to you throughout the week!
Bus Transportation
Summer 2020 Update: No Bus Transportation
We're excited to be offering bus transportation services for families who need it. The fun starts the minute campers step on the bus with camp songs, games and other planned activities.
Our specially-trained bus counselors will supervise and make the ride fun & comfortable for campers! For more information, go online or call the office!
Bus Transportation Cost
$25 per camper AM
$25 per camper PM
AM Drop Off Times/Locations
First Free Church (84th & Van Dorn) 7:45 – 7:55
Christ Church (70th & Yankee Hill) 8:10 – 8:20
Horizons Church (27th & Yankee Hill) 8:35 – 8:45
PM Drop Off Times/Locations
Horizons Church (27th & Yankee Hill) 4:40 – 4:50
Christ Church (70th & Yankee Hill) 5:05 – 5:15
First Free Church (84th & Van Dorn) 5:30 – 5:40
Note: To save your seat on the bus, you must sign up by the FRIDAY before your session begins!
Specific Summer Information
Once registered, you will receive a packet of information including our summer Parent Guide, which will be sent in early May, along with the camp schedule for each of your campers. The Parent Guide can also be found on our Parent Resource tab along with other helpful materials.
FAQs
Here are some brief answers for some of the most commonly asked questions about camp. If you have additional questions, please feel free to contact the office.
Q: What are the day camp hours?
A: The regular camp day runs from 9:00 AM – 4:30 PM.
Campers enrolled in our Extended Camp program can come as early as 7:30 AM and/or stay as late as 6:00 PM.
Q: When will I receive detailed information about camp?
A: Check out our Camper Parent Guide Here! Also, the weekend before every session, you will receive information in the mail about your child's session of camp AND a call from your child's counselor.
Q: What do I send with my camper each day?
A: Your camper should come each day with a refillable water bottle, nonperishable sack lunch, swimming suit & towel, bug spray, sun screen, a great attitude, a smile, and wearing close-toed shoes.
Q: Do you have programs for my special needs child?
A: Camp Sonshine encourages integration of campers with disabilities as is reasonable and appropriate. If your camper has any specific needs such as hearing or visual impairments, learning disabilities, developmental disabilities, physical challenges, emotional concerns or special medical considerations, please contact the office to discuss opportunities. A full understanding of your child's specific needs is necessary for us to provide the best possible experience. There may be some individuals that we are unable to accommodate because of specific needs beyond our scope of care.
Want a tour of Camp Sonshine?
Our Open House on May 9, 2020 will be the perfect time to meet camp directors and staff and get a tour of campgrounds! Can't make it to the Open House? Call the office or fill out the form to schedule a tour!
Directions to Camp Sonshine's Day Camp Location