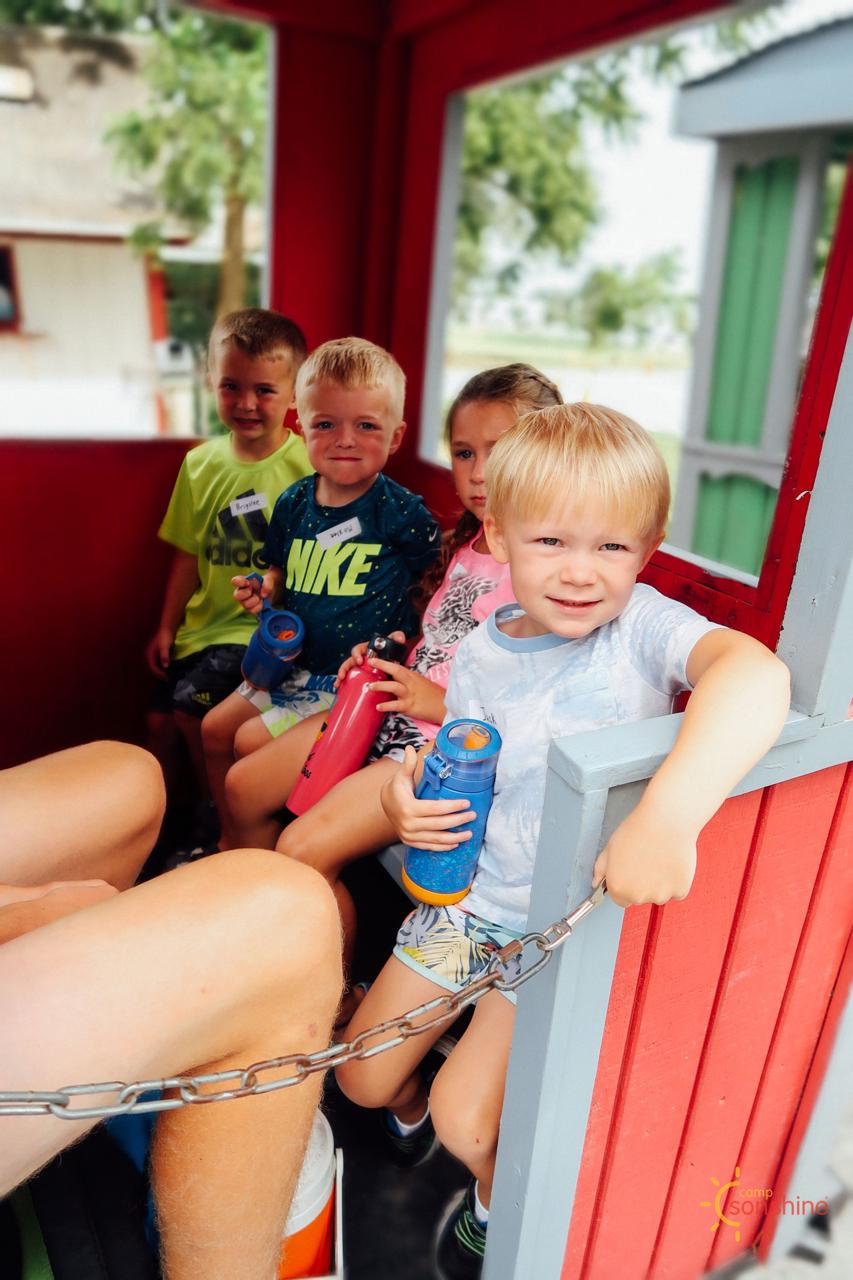 Summer 2023: July 5 – 7
Cost: $40/camper/day (Recommend Max of 2-3 days)
Where: Camp Sonshine (13440 S 25th St. Roca, NE)*
Who: Pre-K, 3 – 5 year olds (Must be potty trained)
Hours: 9 a.m. – 1 p.m. 
Have littles who want a preview of a Camp Sonshine Day Camp experience? Camp Sonshine Junior is just the program for you! Campers will get to experience many of the camp highlights that the big kids love! Pack up that lunch and get ready for an outdoor experience full of fun & adventure!
Activities may include but are not limited to…Train/Wagon Ride, Oasis Waterslides, Assembly, Snack Shack, Petting Zoo, and Moonbounce!
DROP OFF – 9:00 – 9:20
PICK UP – 1:00 – 1:15
DROP OFF & PICK UP – Drop off and pick up at the Brown Barn! Feel free to use the quick drop off lane. If you'd like to park, please let a parking attendant know! At drop off, the lot will open at 9:00. At pick up, the lot will open at 1:00. Our staff will be available to direct you!
CAMP SONSHINE ADDRESS – 13440 S. 25th St, Roca, NE 68430
EARLY PICK UPS – Please call the office to make arrangements for early pick-ups.
BEST WAY TO CAMP – South on 27th Street, West on Saltillo Road, South on 25th Street.
WHAT DO WE NEED TO BRING?
Sack Lunch
Refillable Water Bottle
Closed Toe Shoes
Weather-Appropriate Attire
Swimsuit & Towel
SNACK SHACK
During the day, groups stop by "Nana's Snack Shack" to purchase a small treat or a refreshing ice cream. Snacks range in price from $.50 – $3. There will be a free snack available during group visits for those campers who did not bring any money. You can add money to their account online!
Register Online – Use your existing camp account. If you're new, please create a registration account.
Bring a water bottle, lunch, sunscreen, bug spray, closed-toe shoes, and dress appropriately for the weather. See full list in the parent guide!

Cancellations & No Shows: Cancellation requests for a full refund must be received no less than 5 calendar days before the event. Due to staffing committments and program expenses, no refunds can be given for cancellations made less than 5 days before the event. No refunds will be given for "no shows" the day of the event.
We really look forward to seeing you all again. For questions, help with registration, or additional details, please Contact the office.