Camp Sonshine
COVID SAFETY PLAN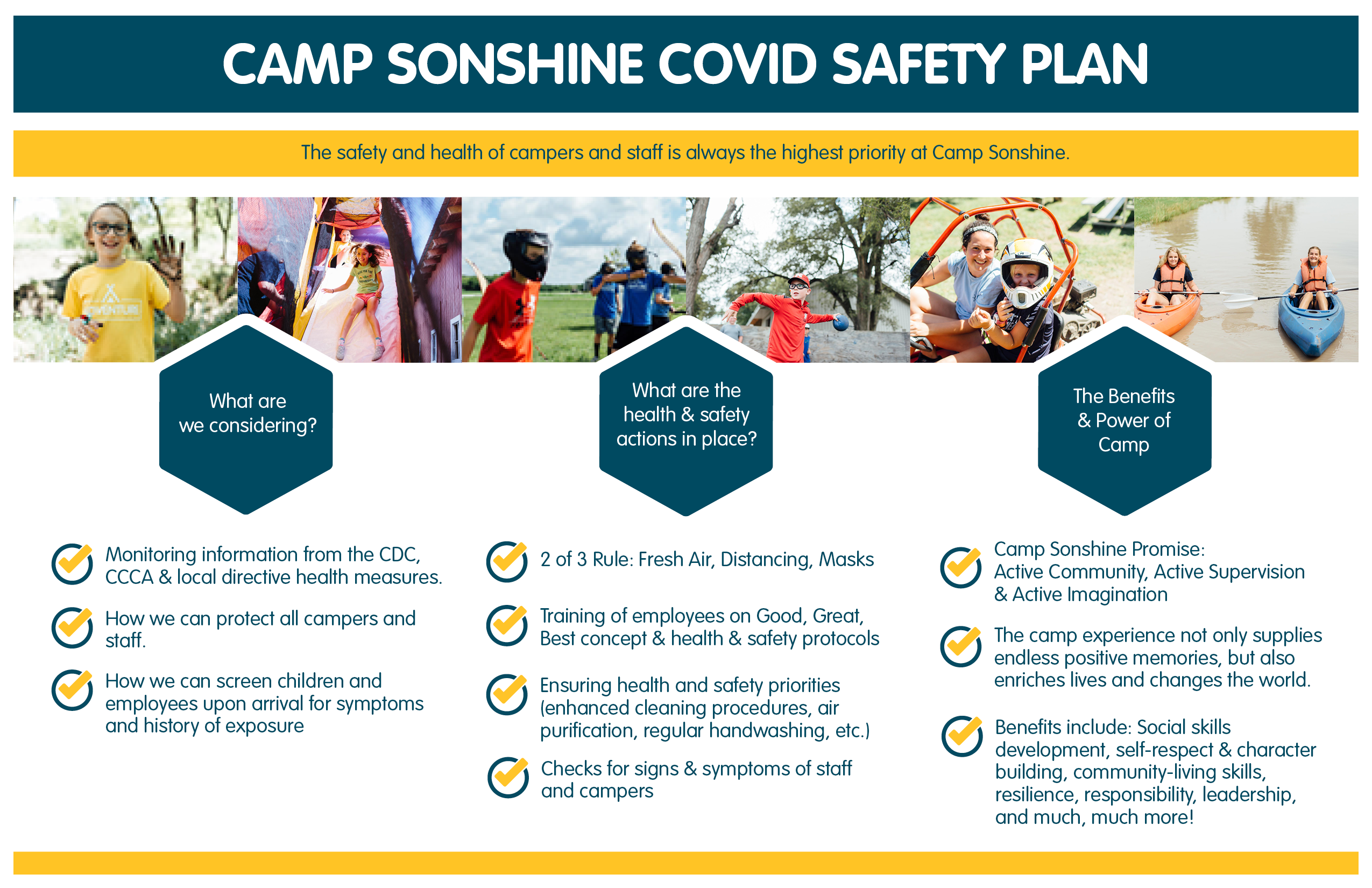 General Information
Camp Sonshine continues to provide an atmosphere where campers find a place to belong and become who they were created to be. In the midst of a continually changing environment, we remain committed to providing our camp families with a safe and life-changing experience.
Camp Sonshine will continue to practice appropriate distancing between groups of campers, promote healthy hygiene practices of staff and campers, perform in depth cleaning and disinfection of facilities and activity equipment and direct groups to continue spending time outdoors building meaningful relationships and making life-changing memories together.  We will continue to monitor local directive health measures as part of our commitment to provide campers with a camp experience that is not only safe physically, mentally and emotionally but also impacting and meaningful.
2 of 3 Rule
When determining the best course of action throughout the day, counselors and program elements will adhere to 2 out of the 3 safety measures outlined here.
Masks

– A face covering or barrier intended to reduce the spread of vapor droplets

Fresh Air

– Locations that are completely outside or spaces that provide adequate ventilation and filtration whereas the volume of air is fully replenished and turned over with fresh air on a regular basis. 

Distancing

– Remaining appropriate distances away from other individuals not in one's cohort.  A cohort is a smaller group of individuals who are together for various reasons on a more regular basis.  Individual camper groups make up the smallest cohort unit but also belong to a larger cohort including those within their program age-group.  Staff members will further belong to a morning/afternoon cohort for set-up/clean-up responsibilities and some will have a housing cohort. Membership between cohorts will be as consistent as possible and there will be a clear and definitive transition from one cohort to another involving additional hand-washing and sanitizing.
Good, Great, Best
There is not a "one size fits all" solution for every group, program and scenario that we will experience at camp and so we are adopting plans that will allow us to identify and respond to situations based on varying degrees of acceptable outcomes. When at all possible we will strive for what we consider to be the "best" approach which is designed to both limit possible exposure and increase personal distance between participants. In situations where the "best" approach may not be possible, our response will always be to follow a scaled approach in first pursuing the many "great" options we have before utilizing other reasonably "good" options that may be available.