Camp Sonshine
COVID SAFETY PLAN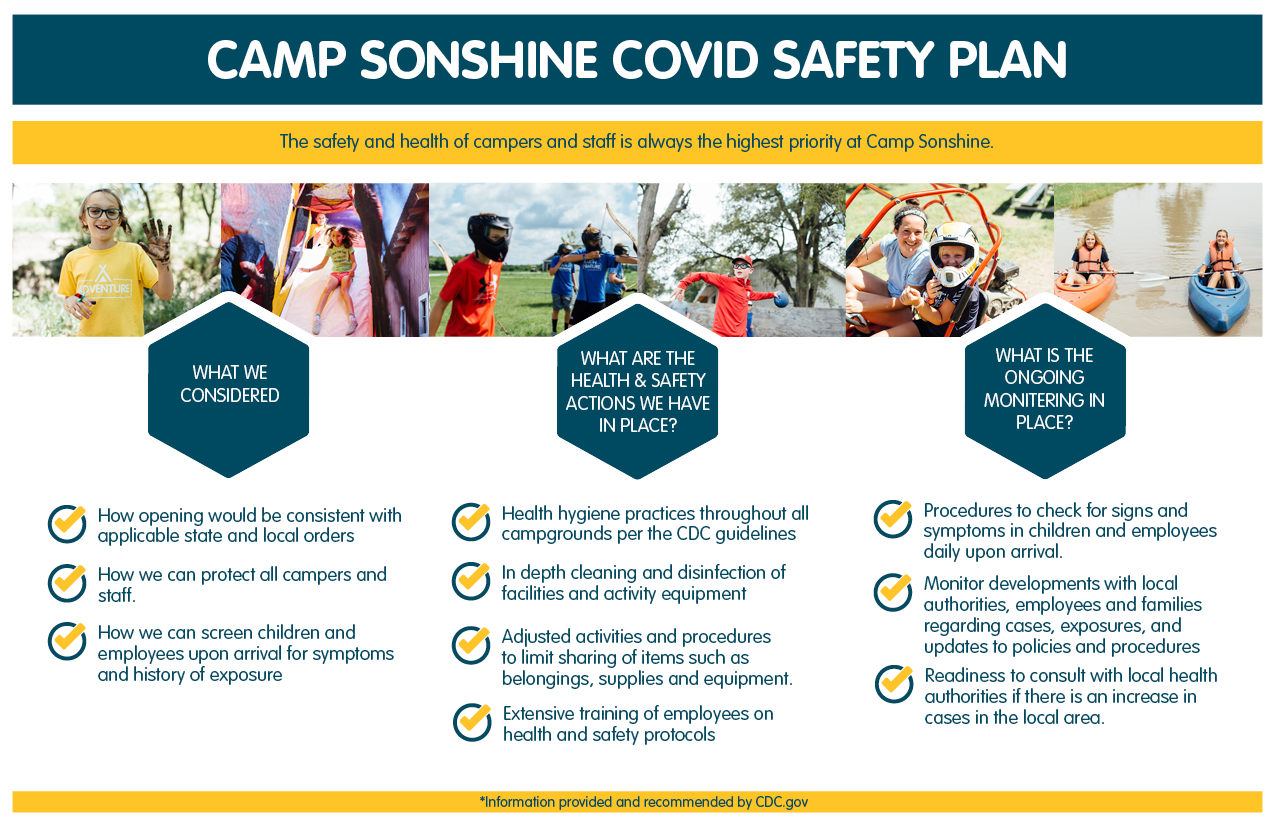 Camp Sonshine continues to provide an atmosphere where campers find a place to belong and become who they were created to be. In the midst of a rapidly changing environment, we remain committed to providing our camp families with a safe and life-changing experience.
Camp Sonshine will continue to practice appropriate distancing between groups of campers, promote healthy hygiene practices of staff and campers, perform in depth cleaning and disinfection of facilities and activity equipment and direct groups to continue spending as much time outdoors building meaningful relationships and making life-changing memories together. We will continue to follow local directive health measures to provide a safe and impactful camp experience.
Summer 2020 COVID Policies & Updates
Detailed COVID-19 Policies & Procedures
Summer Camp 2020 Changes
In order to lessen the potential spread of this pandemic and out of abundance of caution, we've made the following decisions concerning summer camp in 2020. If the situation deems other changes necessary, we will continue to update you on those as soon as possible.
Later Start Day – Effective immediately, we are cancelling sessions 1 and 2 of our summer camp schedule. The later start date will allow us to implement new processes, get the camp facilities ready, and additional time to thoroughly train our summer staff. Below you will find our updated summer camp schedule. Click here to see our full list of Rates & Dates.
Reducing Enrollment &. Reduced Group Sizes – At this time, we will be reducing group sizes and only accepting half of our normal capacity. We will open up more spots as the situation allows.
Practice Group Distancing – We will be making changes to our camp program to practice appropriatedistancing between groups. These changes will be structured in a way to help groups avoid mass gatherings and maintain distance from others when possible while still ensuring a great experience.
Following ACA and CDC guidelines and recommendations – We will continue to monitor guidelines from local officials, the Center for Disease Control and the American Camp Association. We are evaluating our programs, health and safety procedures, cleaning processes and making appropriate modifications. A list of our new cleaning procedures will be coming soon in the parent resources section of our website. To see the CDC guidelines making (re)opening decisions regarding youth programs and camps during the COVID-19 pandemic, click here.
COMING SOON! We will continue to promote healthy hygience practices and provide a list of our intensified cleaning and disinfection practices.  See our parent resources page for a full list.
Altering Drop Off & Pick Up Procedures – We will be making changes to our drop off and pick up procedures. More information will be included in the parent resources page on our website.
HIGHLIGHTS OF SITE SPECIFIC CHANGES
Sonshine Day Camp Program Changes
 We will be asking parents to stay in their cars for drop off and pick up. 

We will not be offering bus transportation to and from day camps this year.

We will be offering a LATE STAY Friday nights with the same overnighter experience of dinner and evening activities.  However, instead of our regular campout, the program will end at 9 p.m. with a drive-in-style session highlight video.
Solaris Overnight Camp Program Changes
We will be making changes to our drop off and pick up procedures. More information will be included in the parent resources section of our website. 

As of now, we will be halting field trips to public places for our overnight camp programs.
New Payment Deadline – Our new payment deadine has been moved back to June 8. Due to expenses already made to plan for campers who are already registered, we'd ask that any last-minute cancellations be made as a credit to future camp sessions or a donation to keep Camp Sonshine afloat in these financially difficult times. 
If this puts you in a tough financial situation, please feel free to email your request for cancellation to Info@CampSonshineMemories.org.
Summer Camp 2020 Updated Schedule
Sonshine Day Camp Schedule Changes
Session 1 (June 1 – 6) Cancelled
Session 2 (June 8 – 13) Cancelled
Session 3 (June 15 – 19) Limited Enrollment Day Camp
Session 4 (June 22 – 26) Day Camp
Session 5 (June 29 – July 3) Regular Day Camp – No Sibling Camp
Session 6 (July 6 – 10) Day Camp
Session 7 (July 13 – 17) Day Camp
Session 8 (July 20 – 24) Day Camp
Session 9 (July 27 – 31) Day Camp
Session 10 (Aug 3 – 7) Day Camp
Solaris Overnight Camp Schedule Changes
Session 1 (June 1 – 4) Cancelled
Session 2 (June 7 – 12) Cancelled
Session 3 (June 14 – 19) Journey/Expedition**
Session 4 (June 22 – 25) Solaris Adventures**
Session 5 (June 29 – July 3) NEW – Family Adventure Experiences!
Session 6 (July 5 – 10)  Journey/Expedition
Session 7 (July 12 – 17)  Journey/Expedition 
Session 8 (July 20 – 23)  Solaris Adventures
Session 9 (July 26 – 31) Solaris Adventures
Session 10 (Aug 2 – 7) Journey/Expedition
Summer Camp 2020 FAQ's
WILL I BE PUT ON A WAITING LIST? I'M WORRIED ABOUT GETTING INTO A SESSION.
Worried about getting into a session? The best way to know if a session is available is to go to your online account. Our online system will show you which sessions are available and which ones will place you on a waiting list. If you get places on a waiting list, we will contact you if space opens up! There's no charge to be on the waiting list.
Already registered or paid a $50 deposit? Your spot is still saved! The remaining balance is due June 8. 
 IS MY SPOT STILL SAVED? 
If you've paid the $50 deposit, your spot is still saved! The remaining balance is due June 8.
WHAT IF THE COST OF CAMP HAS BECOME AN ISSUE FOR ME?
 We understand that this season of life has caused financial hardships for many families. It is our desire for every child to participate in camp this summer. We certainly do not want finances to be the only reason a child does not attend a camp. Please feel free to check out information about our camper scholarships on our parent resources page. Camp Sonshine will do everything we can to help!
NEW - 2020 Family Experiences!
Spending time with family can produce some of the best memories! It's our passion at Camp Sonshine to not only provide life changing camp experiences to kids, but their entire family as well. 
In light of the current circumstances, we want to provide a way for families to have opportunities for fun and meaningful connection with each other. We invite you to sign up for one of our outdoor adventure days for the whole family!  
FAMILY ADVENTURE DAYS @ Camp Solaris 
June 29 – July 3
Full Day Experience (9 am – 9 pm) includes lunch, dinner and selection of snacks provided.  
Our Family Adventure Day is a day-long camp experience led by our staff, filled with favorite camp activities, and some thrilling new adventures for your family to enjoy together. From fishing, kayaks and paddle boards, to archery, campfires and making souvenir t-shirts, timeless family memories will be made. 
Whether you want to push yourself to new heights on the aerial park, or enjoy a hike among 40 acres of peaceful rural countryside, the whole family will find something to love at Camp Solaris. 
To provide positive experiences for your family in a season of social distancing, we'll limit the number of participants each day. We invite you and your family to join us this summer for one of our Family Adventure Days! 
*Click here to see an explanation of tiered pricing.
AERIAL PARK CLIMB DAYS @ Camp Solaris
Starting May 18 
Cost: $25/person (2 hour experience)
The Camp Solaris Aerial Park is a 30-foot high challenge course complete with a zip line and over a dozen unique challenges for your family to explore and conquer together. Book your private climb session today while availability lasts!
FAMILY POOL PARTIES @ Camp Sonshine 
Starting May 23
Cost: $200 (2 hour)
Book a private swim time for just your family to splash in the Camp Sonshine pool! Our gate pool area provides a spacious relaxing place to have fun in the sun. The pool is primarily 3½' – 4' in depth with a roped-off landing zone for the water slide where the water reaches 5'.