Camp Sonshine is the only carrier of the S.A.F.E. Archery activities Archery Tag and Hoverball in the Lincoln/Lancaster County area! These activities are great for a variety of events and can be rented from Camp Sonshine. Contact us for more information and pricing for your specific needs.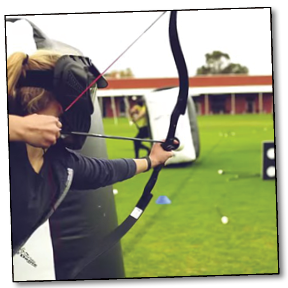 What is Archery Tag®?
Archery Tag® is played similar to dodgeball with bows and foam-tipped arrows. This exciting, action-packed game offers the ultimate family-friendly experience that engages everyone.
A safe, family-oriented sport that satisfies the competitive spirit as well as the thrill seeker.
Requires no athletic ability or prior skill.
People find that foam tipped arrows are non-intimidating.
Offers an interactive experience that is more physical than other activities like Laser Tag.
No bruising or welts – like paintball
The fastest growing sport of its kind.
For more information about Archery Tag, click here.
What is Hoverball®?
Hoverball® is played like archery, but with patented S.A.F.E. Archery® Non-Lethal
Arrow, with soft foam tip arrows and hovering targets!
This offers the same flight characteristics of a standard arrow yet is much safer, allowing opportunities to shoot indoors or outdoors!
Offers a new way to experience archery.
Great way to gets kids and people of all ages involved with archery.
Helps to enhance eye-hand coordination, increase upper body strength, and help to develop self-discipline.
For more information about Hoverball, click here.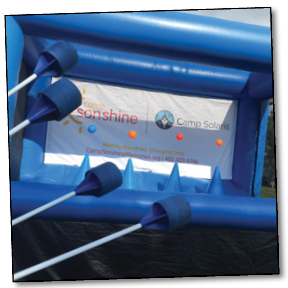 Book with Camp Sonshine
Camp Sonshine offers both indoor and outdoor hosting options.
Archery Tag and Hoverball is portable – we can deliver to your location!
Program tailored to fit your needs. Call for Pricing Options.
Contact us! 402.423.8746 | info@campsonshinememories.org
Already Booked? Fill out our Archery Tag Participation Waiver below!
Archery Tag Participation Waiver