Here is some important information you will want to know before your session!
BEFORE YOUR SESSION STARTS
Our counselors will be calling to introduce themselves to you and your camper this weekend. Don't be afraid to answer those unknown numbers!
WHAT TO BRING EACH DAY
A sack lunch, refillable water bottle, closed toe shoes, sunscreen, bug spray.
Depending on schedule – swimming suit, towel, life jacket
NANA'S SNACK SHACK
Every day during the week, groups stop by "Nana's Snack Shack" to purchase a small treat or a refreshing ice cream. Snacks range in price from $.50 – $2 and other camp merchandise range from $2 – $20.
There will be free flavor ice available during group visits for those campers who did not bring any money.
"Nanas" do their very best to make sure snack money is "used wisely."
We suggest that parents deposit money (via the camper online dashboard) into their snack shack account to avoid campers carrying money around all day. 
Where Do I Deposit Snack Shack Money?
Online Portal When You Register or During The Week

When In Doubt, Call The Office!
A NOTE ABOUT SMART DEVICES & PHONES
Campers, and even group counselors, are not permitted to bring electronics to camp so that they can enjoy the complete camp experience. Parents/guardians can always get quick ac- cess to your camper through calling the office at 402.423.8746. Devices that make it to camp will be kept safely in the office.
For more information on our electronics policy, please see the Parent Guide!
MEET WITH TRISHA, CONNECTIONS DIRECTOR
Since the beginning, Camp Sonshine's heart has been for our camper families to feel that they belong to our camp family! We want a place where you are known and loved.
Now that the Camp Sonshine family is so large, we've created a new position at camp to keep you connected.
Set up a meeting today with Trisha to
Get a tour and get to know Camp Sonshine

Learn how you can get involved & help

Learn about how you can invest in our giving

programs (monthly giving, scholarship fund, or capital campaign).
Click here to schedule a tour with Trisha!
DROP OFF / PICK UP PROCEDURES
TWO DROP OFF LOCATIONS
Camp Sonshine
13440 S 25th Street, Roca, NE 68430
Explorer (K – 2), Adventure (3 – 4), LITs  (7 – 9)
Drop Off: 9:00 – 9:20 AM
Pick Up: 4:20 – 4:40 PM
Camp Sonshine – Shiloh
2260 W Wittstruck Rd, Roca, NE 68430
High Adventure (5 – 6)
Teen Adventure (7 – 9)
Drop Off: 9:20 – 9:40 AM
Pick Up: 4:00 – 4:20 PM
HA & TA campers can be dropped off directly at Shiloh. They can also be dropped off at Sonshine if signed up for Extended Camp or dropping off with siblings.
Quick Drop Lane
We suggest utilizing the Quick-Drop Lane at the appropriate arrival area to drop off your child and one of our staff members will take your child to his or her group. If needed, you may always park in one of the lots and a staff member will be available to answer any questions you may have and/or go with you to escort your camper to his or her group.
HIGH ADVENTURE & TEEN ADVENTURE LOCATION
Getting to Camp Sonshine – Shiloh
2260 W Wittstruck Rd, Roca, NE 68430
GPS may take you down a path you don't want to take! Follow 1 of the two routes on the map below!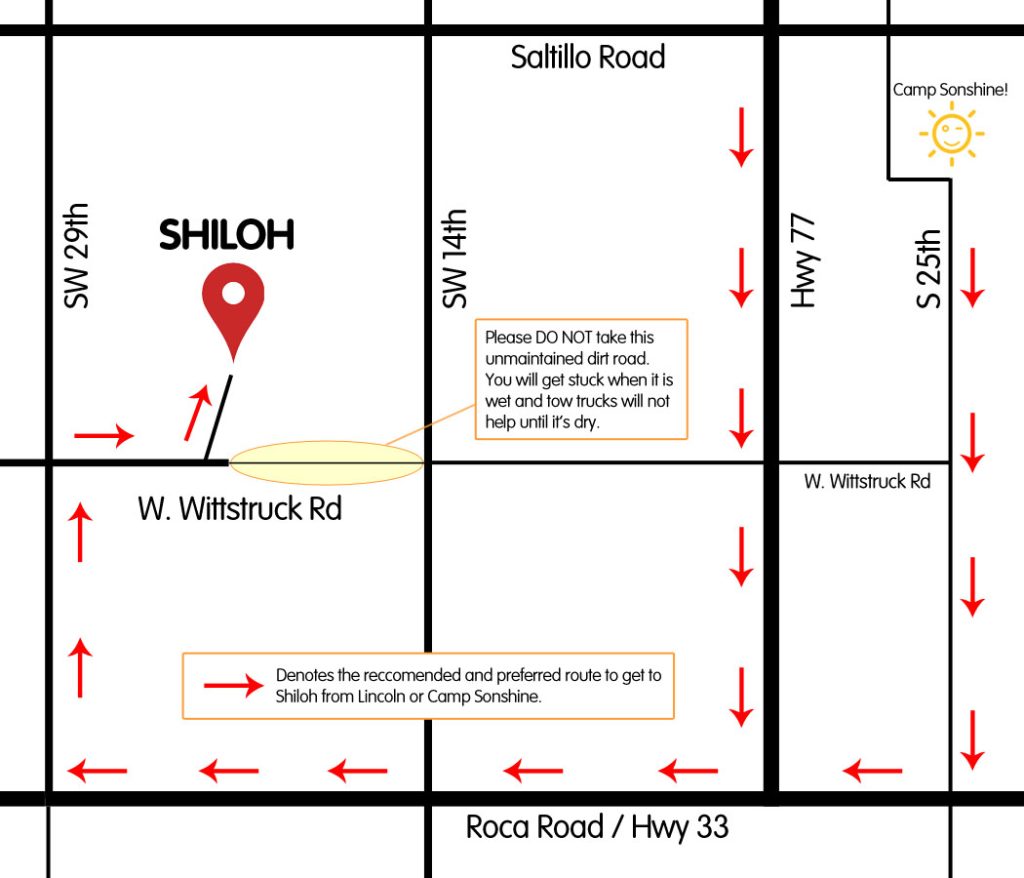 For more HA & TA specifics, check out our day camp parent guide!
SWIMMING PROCEDURES
Swim Levels
RED – Not allowed to enter pool
YELLOW – May Swim but only with a life jacket GREEN – May swim unrestricted
If you need to update your camper's swim level, you may go to your online dashboard or call the office. For more information about our swimming procedures, check out the parent guide!

END OF SESSION PROGRAM & CLOSURE
For both late stay & overnighter, there is a $25 registration fee that covers dinner and an evening full of activities! Campers participate in a wide variety of special activities planned specifically for the Late Stay/Overnighter. Large group games, roasting marshmallows, cooking dinner over a campfire, and a special bonfire time, will create unforgettable summer camp memories!
Late Stay – For Explorer, Adventure & LITs, campers have the opportunity to sign up for the Late Stay on Friday night. Pick up on Friday night at 9 p.m. at Sonshine (13440 S. 25th St, Roca, NE 68430).
Overnighter – For High Adventure & Teen Adventure, campers have the opportunity to stay for an overnight campout on Friday night! Pick up on Saturday morning at 9 a.m. at Shiloh (2260 W Wittstruck Rd, NE 68430).
Pick Up & End of Session Closure – All family members are invited to join us for an end of session celebration lasting about 20 minutes when picking up your camper at the conclusion of the overnighter or late stay.