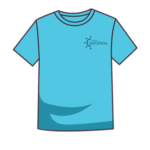 THE BLUESHIRTS
CAMP SONSHINE'S MONTHLY GIVING TEAM
Welcome to the Team! This blog is exclusively for those who are a part of Camp Sonshine's monthly giving team, "The Blueshirts." 
Here in the office we hear so many stories of what God has done in the lives of campers, staff and families through the ministry of Camp Sonshine.  I want to pass on those stories to you, I hope it is an encouragement to you as you invest in this ministry! Thank you for being a part of the team!
What Is The Blueshirts Team All About? Historically, Camp Sonshine has been known for our amazing staff members who wear blue shirts.  Our staff members invest in the lives of our campers by providing a place for them to belong and become more of who God created them to be!  The "Blue shirts" are our campers' favorite people.  
As a member of "The Blueshirts," you're saying that you believe in the ministry of Camp Sonshine and want to play a part in the life change happening through Camp Sonshine.  This team will leave some things to the college students, i.e. dancing around at assembly, play in the mud in the woods, and leading a group of campers on the high ropes course.  This team is like the backbone – prayerfully and thoughtfully giving to help these things happen.   
Specifically, this team is building a camp to allow more campers to attend camp and have life changing experiences.  Not only for kids right now but for the future of our community. 
Hello, my name is Trisha Keiser and I love Camp Sonshine!  I am grateful for all our monthly supporters and I would like to pray for you and your family.  If you have a specific prayer request please submit it here and I would be honored to add it to my prayer list.  
Camp Sonshine continues to experience major enrollment milestones each this summer! In order for us to continue providing a high quality, life-changing program for our current campers, and to prepare for ongoing long term effectiveness, we are excited to be making progress on the gymnasium! 
THE CASE FOR THE GYM
As Camp continues to impact a growing number of youth, it is so important to have adequate facilities to provide additional space for camp activities and operations, as well as a safe space for participants during inclement weather.
Some gym features include:
• Space for Rainy Day Activities
• New Activities and Group Areas (including a Climbing Wall!)
• Bathroom and Changing Facilities
THE NEED
Camp Sonshine strategically covers all operating expenses through camper tuition. This is done so 100% of donations go directly to important projects like camper scholarships and the expansion of our site and facilities to keep pace with enrollment growth. 
Our goal is to raise $130,000 by the end of the year in order to stay on track to have the gym ready for use during the summer! Would you consider a generous donation or monthly pledge today?
GYM PROGRESS
We'll continue to update this page with pictures of the progress made on the gym! Come back to watch the progress with us!